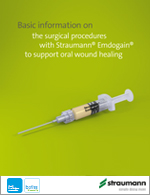 Straumann Emdogain
To support oral wound healing – Step by Step
Pobierz tutaj Straumann Emdogain – To support oral wound healing – Step by Step – Katalog
---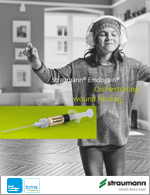 Straumann Emdogain
Wound healing
Pobierz tutaj Straumann Emdogain – Wound Healing – Katalog
---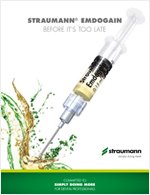 Straumann Emdogain
Before it's too late
Pobierz tutaj Straumann Emdogain Katalog
---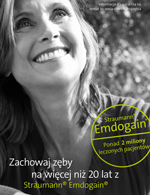 Straumann Emdogain – Informacja dla pacjenta
Pobierz tutaj Straumann Emdogain – Informacja dla pacjenta
---
Single flap Approach in Combination with Enamel Matrix Derivative, Straumann Emdogain in the Treatment of Periodontal Intraosseous Defects.
Prof. L. Trombelli, Research Centre for the Study of Periodontal and Peri-Implant Diseases, University of Ferrara, Italy
Deep intrabony defects represents a challenge for the clinician since, if not properly treated, can lead to tooth loss.
Over the past years, various approaches aimed at a substantial improvement of the clinical conditions of the tooth affected by the lesion associated with the regeneration of the lot attachment apparatus have been developed.
The single flap approach (SFA) in combination with regenerative devices is a simplified surgical procedure to effectively treat deep intrabony defects while minimizing surgical trauma and post surgery complications.