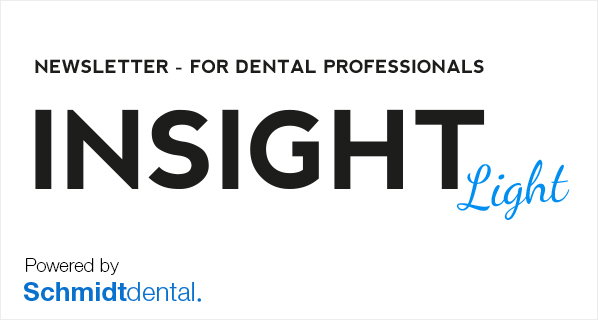 Schmidtdental Newsletter – INSIGHT Light
– ARCHIWUM –
INSIGHT Light Newsletter – Luty 2021
INSIGHT Light Newsletter – Listopad 2020
INSIGHT Light Newsletter – Wrzesień 2020
INSIGHT Light Newsletter – Lipiec 2020
INSIGHT Light Newsletter – Sierpień 2019
INSIGHT Light Newsletter – Listopad 2018
INSIGHT Light Newsletter – Luty 2018
INSIGHT Light Newsletter – Grudzień 2017
INSIGHT Light Newsletter – Październik 2017
INSIGHT Light Newsletter – Sierpień 2017
---
---
---

INSIGHT
MAGAZINE – FOR DENTAL PROFESSIONALS – 01.17
Implanty dla Twojej Rodziny
Pobierz tutaj Schmidtdental INSIGHT Magazine – 1.17
---

INSIGHT
MAGAZINE – FOR DENTAL PROFESSIONALS – 01.15
Wiele powodów, aby się uśmiechnąć
Pobierz tutaj Schmidtdental INSIGHT Magazine – 1.15
---
---
---
SCHMIDTDENTAL NEWS – 01.07.2017
Szanowni Państwo,

Z przyjemnością przesyłamy zapowiedź wydarzeń edukacyjnych Straumann, ITI, MegaGen oraz botiss zaplanowanych w drugiej połowie 2017 roku. Wkrótce w naszej ofercie pojawią się także nowe szkolenia, o których będziemy na bieżąco informować.
Więcej informacji mogą Państwo znaleźć na stronach: www.schmidt-dental.pl, www.itipolska.pl oraz www.rawexdental.com lub kontaktując się z nami pod adresem: marta.ganska@schmidt-dental.pl / katarzyna.sadowska@schmidt-dental.pl

8 lipca ITI Study Club Poznań
21-25 sierpnia ITI Education Week – School of Dental Medicine University of Bern
1 września Sympozjum Perio-Orto-Implanty / Kraków
2 września ITI Study Club Gdańsk (spotkanie wyłącznie dla członków ITI)
9 września ITI Study Club Warszawa & East Poland
9-10 września ITI Study Club Polonika (spotkanie wyłącznie dla członków ITI)
15-16 września Chirurgia – kurs podstawowy / Warszawa
22 września Zaawansowane szkolenie implantologiczne Straumann / Gdańsk
25-27 września Curriculum Implantologiczne ITI / Frankfurt
29-30 września Kurs zaawansowany: Implantacja w strefie estetycznej / Wrocław
6-7 października The Bone Ring Technique / Frankfurt
14-15 października The 13th Annual MegaGen International Symposium / Tokio
15 października Sympozjum Neodent / Warszawa
20 października Zaawansowane szkolenie implantologiczne Straumann / Gdańsk
20-21 października Protetyka – kurs podstawowy / Warszawa
21 października Karkonoska Konferencja Implantologiczna / Jelenia Góra
25 listopada Sympozjum ITI Polska / Warszawa
1-2 grudnia Chirurgia – kurs zaawansowany / Warszawa
8-9 grudnia Zaawansowane szkolenie implantologiczne na preparatach ludzkich / Warszawa

Chcielibyśmy także zwrócić Państwa uwagę na :

1. Zaawansowane szkolenie Straumann prowadzone przez dr. Krzysztofa Chmielewskiego w nowej formule: pół dnia wykładowego – pół dnia zabiegowego. W szkoleniu mogą wziąć udział 4 osoby. Informacje i rejestracja: hanna.frankowska@schmidt-dental.pl
Termin: 22.09.2017 lub 20.10.2017 Miejsce: SmileClinic, Gdańsk

2. Zapraszamy do lektury artykułu na temat nowego implantu Straumann BLT 2.9mm. Straumann – we love what we do!

3. The 13th Annual MegaGen International Symposium, Tokio.
Liczba uczestników sympozjum jest ograniczona do 1000 osób, dlatego zachęcamy Państwa do rejestracji już teraz, aby zagwarantować swój udział w wydarzeniu.

4. UNITED FOR INNOVATION – jeśli chcą Państwo przekonać się o sile marki oraz przyszłości firmy Straumann szczególnie w kwestiach cyfrowych, zapraszamy do odwiedzenia nowej strony www.straumann.com . W zakładce "Brand & Partners" i następnie "Technology Partners" znajdą Państwo m.in. 3Shape, Amann Girrbach, Dental Wings, Rapidshape, Createch Medical, Botiss i wiele więcej.

5. Magazyn INSIGHT – rozpoczęliśmy pracę nad trzecią edycją naszego magazynu. Każde wydanie ukazuje się w ilości 5000 egzemplarzy, które trafiają do gabinetów na terenie całej Polski. Jeśli są Państwo zainteresowani publikacją interesującego artykułu, prosimy o kontakt z: oliver.schmidt@schmidt-dental.pl

Na zakończenie chcielibyśmy ogromnie podziękować za Państwa lojalność i zaufanie. Zamierzamy kontynuować naszą pracę pełną pasji i wspólnie rozwijać się z Wami.

Życzymy udanych wakacji!

Z pozdrowieniami,
Zespół Schmidtdental.

STRAUMANN NEWS
STRAUMANN INCREASES OWNERSHIP OF NEODENT TO 100%

Full acquisition strengthens Straumann's position in the value segment and extends its global leadership in tooth replacement
Cash payment of approx. CHF 210 million for remaining 51%
Highly successful Brazilian company expects to sell approximately one million implants this year
Co-founder/CEO Dr Geninho Thomé continues with Neodent as Scientific President & President of the Board of Neodent

Basel, 7 April 2015 – Straumann has signed an agreement to increase its ownership of  Neodent, Latin America's leading dental implant company, from 49% to 100% in 2015, three years earlier than foreseen in a previous option agreement. The purchase price for the outstanding 51% is BRL 680 million (approximately CHF 210 million1) paid in cash to the company's founding shareholders, Drs Clemilda de Paula Thomé and Geninho Thomé. The acquisition extends Straumann's overall leadership in implant dentistry and makes the Group a substantial contender in the global value segment.

Neodent specializes primarily in the design, development, and manufacture of dental implants and related prosthetic components. Under the entrepreneurial leadership of its founders, the company has expanded rapidly over the past 22 years and has a leading share of the world's second largest market for implant dentistry2, Brazil. This success has been achieved through a philosophy of making tested implant solutions more affordable to a broader population.

In 2014, the company achieved revenues of BRL 258 million, generated predominantly in its domestic market, where revenue grew 8%. Neodent is highly profitable and the acquisition will be accretive to Straumann's reported EBIT margin from 2016.

Straumann acquired 49% of Neodent in 2012 for BRL 549 million (CHF 260 million3), with an option to increase to 75% in 2015 and up to 100% by 2018. This option has been renegotiated to enable a full acquisition in 2015.

Merged activities to unlock synergies and market potential

The initial acquisition marked Straumann's first step into the value segment of the tooth replacement market. In the meantime the Group has established an international value platform (Instradent), which has launched Neodent in the US, Iberia and Italy, with further markets to follow.

The two companies will be able to achieve considerable synergies by merging certain activities. For instance, Straumann's country organization in Brazil will move to the Neodent facilities in Curitiba and the two organizations will collaborate to unlock the full potential of the Latin American region. Elsewhere, Straumann will continue to drive the international expansion of Neodent through its Instradent platform.

Co-founder/CEO takes on new role as Scientific President and remains President of the Board, ensuring continuity

Dr Geninho Thomé, the co-founder and former CEO of Neodent will continue with the company as Scientific President & President of the Board of Neodent. He will hand over his current operational responsibilities to the new CEO, Matthias Schupp, who will continue to head Straumann's LATAM region.

Marco Gadola, CEO of Straumann, commented: "Neodent is highly successful and expects to sell roughly a million implants this year, underlining its attractive value proposition, solid reputation and strong commitment to the well-being of patients. The company's success has been driven largely by the entrepreneurial acumen, clinical expertise and creative vision of Dr Geninho Thomé, and we are both grateful and excited that he has agreed to continue with us to share his knowledge and experience as we develop new markets, products and solutions".

Dr Geninho Thomé noted: "Straumann's investment speaks for the quality of our company, our people and all that we have achieved together. It is an honor for me personally and everyone at Neodent to be part of the Straumann Group, which we see as the pioneering global leader in implant dentistry. Together we will contribute significantly to the standard of affordable patient care in Latin America and beyond."

Consolidation of Neodent

On 1 March 2015, when the option to obtain a majority stake in Neodent became exercisable, the Group began to consolidate Neodent in its financial statements. Previously, the contribution from Neodent was accounted for using the 'equity' method and was reported as 'share of result from associates' in the Group's income statement.

About Neodent

Founded in 1993, Neodent's headquarters and state-of-the-art manufacturing facility are located in Curitiba. The company employs approximately 970 employees, operates 15 branches in Brazil and works with a wide network of distributors positioning the company as the market leader in the LATAM region.

Neodent places considerable importance on education and training with the aim of ensuring quality treatment standards and patient care. It does this through the ILAPEO (The Latin American Institute of Dental Research and Education), one of the largest dedicated implant training centers in the world, offering courses to thousands of participants from all over the world each year.

---

1 Corresponding to an approximate EBITDA multiple of 12

2 iData Research Inc. 2011 and Straumann estimates

3 Corresponding to an approximate EBITDA multiple of 14
---